The People of Iron Gait Percherons - Draft Horse Sanctuary
Meet some of the team that volunteer their time trying to help make a difference for the horses.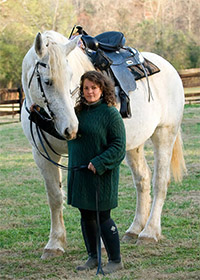 Denise S. Polydor
Founder and Director
Denise formed Iron Gait Percherons, Inc. (IGP) as a nonprofit corporation in April 18th of 2011, and serves as the President and Chairman of the Board for the organization today.  It is her lifetime of education and her great love and respect for large breed horses that originally inspired the formation of IGP.  With hands on experience owning horses, equine education, and studying under Monte Roberts techniques;  Denise has raised, helped, trained, and showed Percherons and draft horses for many years.
She first became a member of the Percheron Horse Association in 1998 and is a member today.  She earned the titles of Supreme Champion, Champion, and Reserve Champion in Pennsylvania for her Percheron yearlings.  She has also helped Thoroughbreds from local tracks along with local Amish horses.   She has years of experience in the riding disciplines of Hunter Jumper, Dressage and Barrel racing. Denise is the spokesperson and primary caregiver for IGP, and Denise is "hands-on" with all the rescue horses on a daily basis.
"My love for horses always has been undescribable and unconditional."
"I have now devoted my life to the well being of these most noble animals and believe that with ANY horse you need to take your time.  Earn their trust and you will then earn their heart. All of your love and many many hours of patience is the way to do this.  Once you have done it, nothing will ever compare to the warmth within your heart.  You will NEVER receive a better reward than the devotion of a loved horse."
---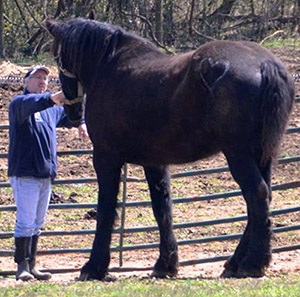 Eric Beach
VP and Treasurer
Eric brings over 25 years of business, technology, and creative experience to the organization. Many of these years were spent in senior-level leadership roles in both large and small companies. Eric has a Masters degree in Management and Technology and has played an integral role in the successful startup of two companies. At Iron Gait Percherons, Eric is in charge of organizing financial matters, overseeing our budget and expenses, and working with outside accounting to maintain appropriate financial records. He also assists as needed not only physically but also financially with the daily operations of the rescue.
---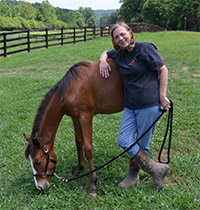 Billie Mitchell
Director
Billie has a long track record of involvement and dedication to volunteer work. For the past few years she has volunteered at two horse rescues and adopted four horses of her own. Her and her husband Greg adopted "Athos", a Percheron gelding, and "Angel", a 5 month old Paint filly, both from Iron Gait Percherons. In addition to her work with the horses, she has fundraised and co-curated several art shows to raise money for CERF (Craft Emergency Relief Fund), which provides assistance for artists who have gone through emergencies.  She worked in Belize as an organizer and teacher of pottery to Myan villagers.  She also volunteered for the Olympics and Special Olympics in Atlanta.
---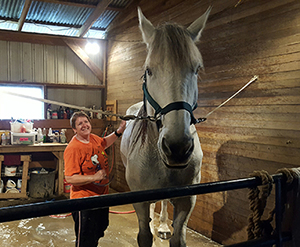 Mary Ellen
Volunteer
About Mary Ellen
---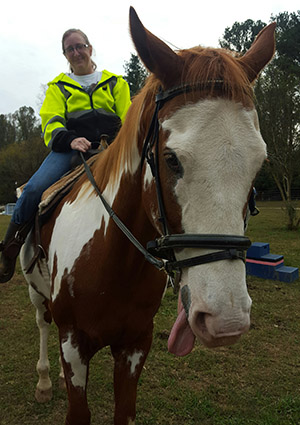 Dawn
Volunteer
About Dawn
---