Countdown to Our Next Open Barn Event on April 22nd, 2017
FOR IMMEDIATE RELEASE
Iron Gait Percherons Celebrates ASPCA Help A Horse Day
Community support needed for chance to win up to $25,000 ASPCA grant to help more horses
Waleska, GA (March 28th, 2017) — Iron Gait Percherons (IGP) – Draft Horse Sanctuary will be celebrating the ASPCA® (The American Society for the Prevention of Cruelty to Animals®) national Help A Horse Day on April 22nd and competing for a chance to win up to $25,000 in grant prizes to assist with their efforts to protect horses. To celebrate the day, IGP will be hosting an Open House Event on April 22nd, 2017, which is also their 6th Anniversary of Helping Horses. Come spend the day with everyone at IGP, tour the farm, meet the sanctuary and available horses, and enjoy the live band, equestrian entertainment, food, and bonfire. This a rain or shine event. Mark your calendar now!
This nationwide competition is for equine rescues and sanctuaries to raise awareness about the lifesaving work they do year-round to care for at-risk horses in their community who have often been abused or neglected. Horses have been central to the ASPCA's work since its founding 150 years ago, when Henry Bergh stopped a cart driver from beating his horse, resulting in the first successful arrest for the mistreatment of a horse on April 26, 1866.
"The ASPCA Help A Horse Day contest is a wonderful opportunity for our team to welcome the residents and businesses of the area into our barn to help spread awareness about the at-risk horses in our community who are in need of loving homes," said Denise Polydor, Executive Director of IGP. "Draft Horses are majestic, loving animals, and we hope our local supporters will come out on April 22nd, 2017 to help us win a $25,000 grant so we can continue our lifesaving efforts for years to come.
For more information about Iron Gait Percherons, please visit www.igprescue.org.
###
Hope to see everyone here April 22nd for ASPCA #HelpaHorseDay and
Our 6th Year Anniversary of Helping Horses!
Come spend the day with all of us at IGP
 Tour the Farm
View the Available Horses
Meet the Sanctuaries
Live Band, Entertainment, Food, Bonfire
and
Percheron Pony Rides


Mark your Calendar Now to Support a Great Cause! RAIN OR SHINE!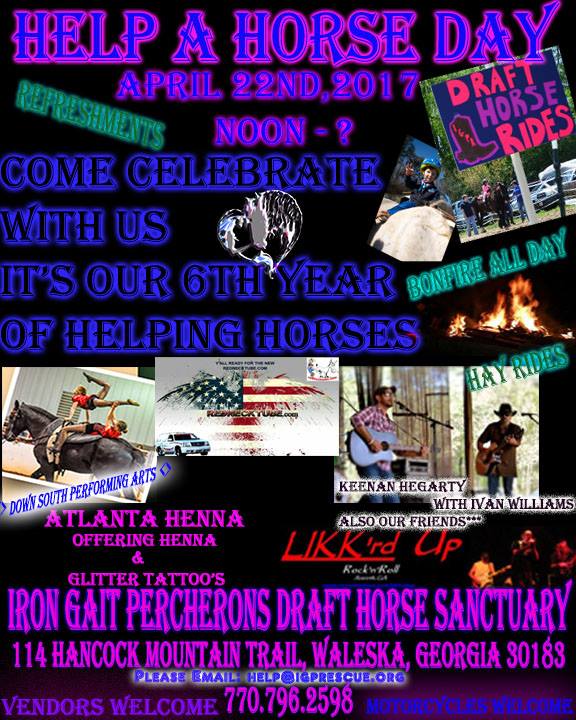 You can ALWAYS Stop by and visit the horses…
Actually we encourage the Public to visit!
However, As you know, having quite a few Sanctuaries to care for can be a lot of daily work! We only ask that you please call for an appointment, this way we can assign someone to devote their day giving you a personal tour and answering any questions you may have.
Iron Gait Percherons, Inc.
114 Hancock Mountain Trail
Waleska, Ga. 30183
(770) 796-2598